Your Soldier, Sailor, Airman or Marine needs a Viking Speedloader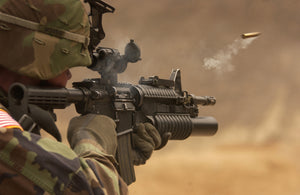 For those inexperienced in combat, it might be easy to dismiss the Viking Speedloader 5.56 SC  as a non-essential gadget. Nothing could be further from the truth. Let us explain why your Soldier, Sailor, Airmen and Marine needs a Viking Speedloader.
In any prolonged combat engagement, resupply is critical. As your warfighter goes through ammunition and magazines, someone has to reload them. If your fighter is the one on the wall interdicting targets, he or she can't simultaneously load magazines. 
At this point, support personnel or possibly injured persons will be the ones doing the loading for your warfighter. If no support personnel are available and your soldier is responsible for his or her own reloads during combat, well, let's just say it needs to be quick. 
This is the tool our military has been using since Vietnam for loading. The ammunition stripper clip must be threaded through the grooves of this device, and then the user oftentimes needs to find a surface to forcefully push the rounds into the magazine. 
Let's use the attack on Benghazi for reference. This was an attack on the US Consulate and a civilian base. Our American personnel were left in a prolonged gun battle with the enemy, without the aid of assistance from the former administration. As the hours went on, injured and support personnel were loading magazines for our fighters in the dark and under extreme conditions. On a civilian base this can mean ANY civilian working on the base; from executive assistants to medical personnel, to communications personnel, etc were trying to reload magazines for our Americans in the fight.
We know how the attack on Benghazi ended and we will never forget the brave actions taken or the lives of our friends lost that day. 
In contrast to the current loading method, the Viking Speedloader 5.56SC can be used by injured personnel as well as by those inexperienced in loading magazines. It can be used in low light and no light conditions. It is virtually indestructible, adheres to noise and light discipline and fits easily into a cargo pocket. 
Your Soldier, Sailor, Airman, or Marine needs a Viking Speedloader. It can save lives in combat and make our men and women more effective fighters.
In fact, at Viking Speedloaders, we'd say it's mission essential.
Troy L. Williams, CEO
2 Responses
Leave a comment
Comments will be approved before showing up.