About Viking Speedloaders- who we are and where we're headed!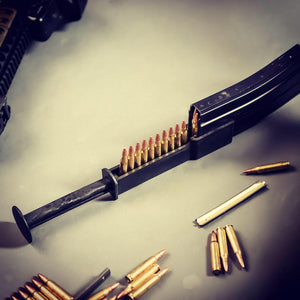 We are Americans. We are Patriots. We are Veterans.
We come to you from the great states of Montana and Colorado.
We've served our country in various ways and we know that "smaller, lighter, faster, stronger" matters in the completion of missions in the field. We want to give back by providing the most innovative products that not only enhance the work of those who serve but that also satisfy the great American gun owner. 
The current version of the Viking SL 556SC was designed specifically with law enforcement and military personnel in mind because they currently utilize stripper clip ammunition. Our speed loader is practically indestructible, lightning fast and made to cut down on hours of loading time.  
We have a loose ammunition version currently in production phase that will accommodate most calibers- including an AK version. 
We have many other products currently in our pipeline and we will be adding them continually in 2018.
Please continue to check back, critique and tell us about your dream speed loader! It is our goal to provide the most effective and efficient speed loader for all of America's gun owners!
~Team Viking
Leave a comment
Comments will be approved before showing up.